Our club's annual Jean Pelham Charity Day proved to be a winner for all concerned.  The charity organizers had a squad of volunteers on site early preparing lunch for 15 pairs of bridge players. Charity volunteers organised several varieties of soup and crusty bread for a famished membership. Well done to the Charity team and all those who helped out with sweet treats.  We'll let you know ASAP the total amount raised.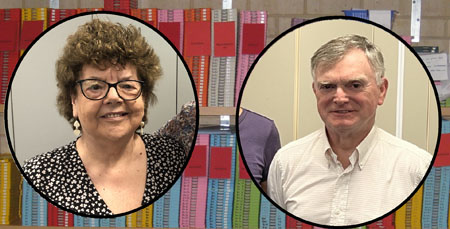 As far as bridge is concerned we were short seven pairs on last year.  Christine Hadaway and Chris Hannan won the day hotly pursued by Sylvia Foster and Lorraine Lindsay. There was only a single percentage point in it. Martin Johnson and Chris Hasemore were not far away taking the final podium spot. Well done players.
From Eric Gibson's History of Brisbane Water Bridge Club :
Jean Pelham called a meeting of interested bridge players to be held at the Woy Woy Progress Association Hall on Monday 1st September, 1975.
Twelve people attended the meeting and voted to form the Brisbane Water Bridge Club.  It was decided to play on Monday afternoons at 1.30pm and Wednesday nights at 7.45pm at Woy Woy Progress Association Hall (a small room with a tiny kitchenette) at a rental of $3 per session.  Auction and Solo players were to be welcomed and beginners were to be taught in order to increase membership.
A committee was formed and Jean Pelham was elected President.  The first item of importance was the provision of tables, cards, boards etc.  Jean Pelham offered to purchase all necessary equipment, to be repaid by the club at a later date.
After the meeting a game of bridge was played and ten members joined the club.
Members always look forward to the drawing of the Charity Raffles which were interspersed with breaks in play. Thanks to all those people who donated the prizes for our special day.